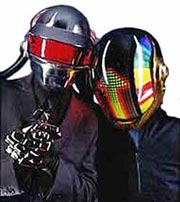 international news _ 10th April, 2006
Daft Punk Join 40 Lap Dancers @ Global Gathering 2006
Text by Jonty Skrufff (Skrufff.com)
French house icons Daft Punk will be playing their first live show in the UK in nine years at this summer's Global Gathering, headlining a host of attractions which includes a lap-dancing club.

Event organiser James Algate told Skrufff this week they'd been trying to book the reclusive duo ever since they started Global Gathering four years ago and were pleasantly surprised when their agent contacted them several months ago completely out of the blue.

"I think every festival would like Daft Punk on their line-up whatever festival it might be in the UK and for us to book them is a coup, we're really excited about it," said James, adding that he's otherwise unable to provide any more details.

"I can't tell you whether they're performing on Friday or Saturday, in fact, I can't tell you anything about the show, it's a closely guarded secret, I've been specifically told that we're not allowed to release any information to the press," heexplained, "Though I will say that having seen the stage plans that we've been sent it's going to be a phenomenal show."

"They want everybody to turn up on site, see the show and go 'wow'. It really will be a surprise for us too. It's their only UK show, I'm sure they're not going to be touring again for God knows how many years so if anybody wants to see Daft Punk in the UK in the next few years, this is likely to be their only chance."

The two-day event also includes the usual vast attractions of big name DJs (Fatboy Slim, Sasha, Digweed, PVD, Steve Lawler, Jeff Mills etc etc), an entire fairground, 'extreme rides' and 40 strippers, James confirmed,

"We've had lap-dancing for the last couple of years, we've just kept it a little quiet up until now but it's worked really, really well. It's in a separate area in the main part of the site and if people want to go in they're welcome to, if it's not your thing, steer clear," he advised.

"I'm not even sure how much the girls charge for their services," James claimed, "It's just like going and putting a few quid on a fairground ride."

Global Gathering takes place on Friday July 28 (5pm-2am) and Saturday Jul 29 (2pm-6am) at Long Marston Airfield, Stratford Upon Avon. Tickets cost 105 pounds for the weekend with camping, with other options available.