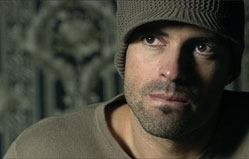 international news _ 6th April, 2006
Liebing & Picotto's Amicable Ibiza Split
Text by Jonty Skrufff (Skrufff.com)
German techno star Chris Liebing, who alongside Mauro Picotto, promoted two successful seasons of Ibiza parties called Meganite, at Privilege, confirmed he'll be hosting a solo series of parties at the same venue this summer, though told Skrufff this week the duo's relationship remains strong.

"It's funny how the media always suspects big arguments and fights, but no, we did not fall out at all," said Chris, "I already decided last year not to continue with Meganite and Mauro understood and reacted very nice and friendly."

Chris' new Sunday night affair SpinClub will be centred around residents Nick AC (Robots NYC, USA), Benny Rodriguez (Rotterdam, Holland) and Angel Costa plus surprise live guests, with Speedy J turning up for two special nights with Chris.

"I really enjoyed these two years with Mauro and we did start a quite successful night on Wednesdays, but for me it's just time to move on and start something of my own. Mauro will still be doing the Meganite on Wednesdays, this season with Mistress Barbara and Marco Carola as residents and I am sure it will be another great Meganite season," Chris predicted.

Chatting to Skrufff several years ago Chris theorized that fame and fortune never bring true happiness and three years on, he insisted his increasingly high profile has changed little.

"I guess I gained a bit more fame, but I still need to do an enormous amount of work on the materialistic fortune side of things," he chuckled," So no I haven't changed my mind at all." He also stressed he doesn't own a top of the range Sunseeker speedboat like Mauro ('but riding on it last year was fun' he admitted) instead preferring more humble means for running round the island.

"The only transport I had on Ibiza was my crappy old Jeep, but it took me to all parties safely," said Chris, "But I am not really driving much generally. My most extravagant possession might be my endless selection of Maharishi pants. Most money I get I just spend it on my studio."

SpinClub launches on Sunday June 11, taking over the side room of Privilege (which holds up to 900 people).

"I played a very long set at last year's Privilege Closing night in that space and it rocked amazingly. Especially when the sun came up in the morning, offering the crowd a sunrise over Ibiza Town," he concluded.

"We'll be building quite a relaxed and intimate atmosphere with no need for big name line-ups, and one hour sets from five different DJs, it'll be all about the vibe."