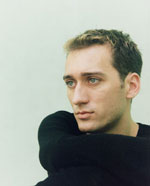 international news _ 3rd April, 2006
Paul Van Dyk- 95% of Trance IS 'Cheesy Bollocks'
Text by Jonty Skrufff (Skrufff.com)
German superstar DJ Paul Van Dyk applauded rising UK DJ/producer Gareth Emery for calling 95% of trance music 'unplayable, derivative shite', telling 3D World this week, 'I think Gareth did really well to say something like this.'

Pointing out he's equally likely to spin 'Chris Liebing style techno or (Adam) Freeland-style breakbeats' and distancing himself from trance yet again, PVD pointed out he'd been saying much the same thing for ten years, and stressed that song-writing remains the key.

"There is a very fine line between making quality tunes that sound great and combine musical elements like melodies, song structures and vocals, and nailing a (predictable) track together where you know every single piece of the track before you hear it," he said.

Chatting to Skrufff this week Gareth said he's 'stoked' by PVD's support, adding His comments sum up exactly sort of tracks I was on about: ones where you can listen to them for about ten seconds and you know exactly how it's going to go. The problem comes when people are making tracks by simply taking another record and mimicking it when they should be trying to make theirs sound different. It's soulless."

He also said was delighted with the debate his previous comments sparked on messageboards around the world, with a few notable exceptions.

"The only responses which bothered me a little were ones where a few people were saying "what a fucking twat"... well if speaking your mind makes you a twat, then sure, I'm guilty," he confessed.

"What I would say to these people is this: if they want to argue the toss over my comments like mature adults, I'll be happy to discuss it with them in person at any of my gigs. That is if they've got the bollocks to drag themselves away from acting tough on message boards and actually go to a real club," said Gareth.
Interview: Paul van Dyk Video Interview (08/12/2005)