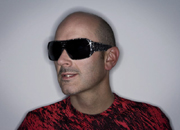 international news _ 3rd April, 2006
Larry & Princess Superstar's Maimi Fashion Faux Pas
Text by Jonty Skrufff (Skrufff.com)
Electroclash king Larry Tee and hip-hop/electro diva Princess Superstar swapped fashion tips for delegates attending Miami's annual winter conference this week and concurred that the worst item to display is a 'VIP' laminate.

"There's nothing more gaggy than seeing all the people coming from the UK and Europe with white pasty skin wearing black cut-off shirts and their M3 badges around their neck, sweating profusely because they still have pants (trousers) on," Princess Superstar chuckled, "Then three days into the conference seeing those same people with bright red faces and half of their arm burnt because they passed out on the beach after partying all night.

At the least they should rent Scarface or old Miami Vice reruns before travelling and try to dress and act a bit like that," she advised.

'Don't wear your conference badge around your neck while you party," New York man-about-town Larry Tee agreed, "it signals an amateur.

And sunglasses at night are great for Tiga but rarely anyone else. Also don't be afraid to dress foolishly; it is just a party after all, right?"

Both conference vets promised they'll be showing off their own exquisite taste on the beach (Princess Superstar sporting 'an itsy bitsy bikini, of course', Larry; 'a splendid black Pierre Cardin that I got in Rio to show off my newly gym-toned body') and both admitted they're expecting similar conference chaos to years gone by.

"Once I was supposed to spin at Tommy Lee's club Rock Bar but when I attempted to go in the booth, the bouncer looked me up and down and said "You sure you're a DJ? Well anyway, there are enough DJs in the booth, you can't come in!" she laughed.

"I also saw someone's boob implant explode because she was on too much ecstasy. Miami is on some scary shit," she said.

Larry also attended the Rock Bar last year though said he'd been unimpressed by a promoter boasting of barring Tiesto ('DJs are not rock stars, but promoters are even further down the food chain', he scoffed) though said he's excited about the impact electroclash continues to have on both the festival and the wider dance world.

"All the big DJs this year are rocking the new electro inspired big room dance music from Europe and all the old electroclash stars are now rock stars," said Larry.

"And DJ Hell DJing the main stage of Ultra with Paul Oakenfold signals a final mainstream acceptance of electroclash."