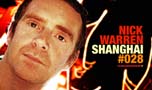 international news 27th April 2005
Global Underground New Album
The next instalment of the continuing Global underground live DJ Road Trip albums will be released in July with a live recording a performance of carefully chosen tracks performed last month in Shanghai by Nick Warren (Way Out West).

Nick, who previously stated he wasn't going to do another Global Underground compilation on the sleeve notes of his GU024 Reykjavik album, sent out a message to producers in Mid February asking for new tracks for the album. The performance took place at the Fenwick club in the docks, Shanghai and from all accounts of the event so far was a spectacular show.

Featuring music from Holden and Thompson, Way Out West, Lustral and the 303 classic by Hardfloor, 'Acperience' the album reflects the darker edges of Warren's underground sounds. GU are planning a 4 July release date for the album, for more information check out the website.