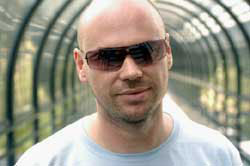 international news _ 14th April 2005
International Audio Therapy
Dave Seaman, prog god extraordinaire has announced the latest developments for his highly acclaimed label Audio Therapy. Currently riding high with killer remixes of Infusion's 'Girls Can Be Cruel', Tears for Fears 'Closest thing to Heaven' and Phil K and Habersham's 'Cloudbreak' as well as the man Dave and Luke Chable's Therapy Sessions album the label has announced that they will be launching a new compilation series entitled 'Across Borders'. The unmixed compilations will feature the best production talent from a country or region giving aspiring and established artists the world over a unique opportunity to showcase their work to the global scene.

Greece is the kick-off point for the new series, not surprising considering the recent surge of Greek producers in the prog scene on Ministry, Bedrock and Audio Therapy with an album launch party and tour there commencing in July.

Label head Dave had this to say about the new series: "The amount of music I am given whilst out performing constantly amazes me. Being a DJ and running a label makes me an obvious target for producers to pass on their material. Sometimes, after a weekend of gigs, I have almost an albums worth of quality releases. A lot of the guys involved have already had some big releases on the worlds key labels like Bedrock and Yoshitoshi, we just wanted to unite all of them together on one album to show just how much of a current hotbed Greece is for quality material and talented producers. There are many other areas and countries that are really producing some outstanding music. We hope to turn our attention to these as the series progresses".
Interview : Dave Seaman in Tokyo (04/05/2004)
Party Report : The Therapy Sessions feat. Dave Seaman & Luke Chable (20/03/2005)