Will Saul, boss of Simple Records, DJ, producer, remixer and Fabric regular, met up with Higher-Frequency for a chat about what's going on in the UK breakbeat scene after his recent debut Japanese appearance, at local DJ Mike McKenna's Addiction party @ Simoon.
> interview : kei tajima (HigherFrequency) _ photo : ollie beeston

HigherFrequency (HRFQ) : So how was last night event, Addiction @ Simoon?
Will Saul : It was great, the crowd were really responsive as well. I'd heard a lot of stories before coming here I heard about Japanese crowds were into just standing and listening, but that was totally disproved last night! It was really really enjoyable, and the sound system always makes a big difference.
HRFQ : What Japanese artists are you into?
Will : In Terms of producers one that I really rate is called Mylo who has done a lot of the early Mo Wax stuff, a lot of work with James Lavelle, people like that. Also DJ Krush and Toshinori Kondo, a trumpet player who did an album with DJ Krush, they're the Japanese artists that I've heard a lot about.
HRFQ : Is Japan what you expected it to be like?
Will : I didn't really know what to expect in terms of crowd or venue or anything like that, just because I've never been before and the event went really well. The sound system and the people and the club always make a difference and of course the horses heads!
HRFQ : A lot of UK breakbeat artists are starting to come over here to play, what's happening in the UK at the moment?
Will : It's being spearheaded by a club called Fabric, that's been around for 3 or 4 years now. They really take the sound to another level because it's a massive club that can hold about 2 or 3 thousand people, they've got an amazing sound system and every Friday night is based around breakbeats whether it's drum and bass or hip hop and then there's the kind of breaks I play in one of the rooms as well, so the fact that there's somewhere showcasing that kind of sound every Friday has really pushed it forward in the UK as well. But there are lots of labels that are now establishing themselves. I think also because the music industry in general has taken a bit of a hit recently but I think that's good in many ways because some of the weaker musicians have dropped out who were just making music to be part of something, part of a movement rather than doing it because they really loved it. So now there's a core of labels that are doing it because they really love it, it enables them to DJ everywhere as well as produce, it's more about back to basics I think.
HRFQ : So do you think breakbeat is at its peak?
Will : I think it's still got a lot of rooms to grow, a lot of things start in London in the UK, definitely with breakbeat, and then they spread out, like you were saying, it's just starting to come over here, and in Australia it's huge as well, probably bigger than in the UK in fact, it's huge there. Labels like Fingerlickin sell more records in Australia than in London.
HRFQ : Do you have a residency at Fabric?
Will : No. Simple have done two label nights in room 3 (with another this autumn) and I've played at Fabriclive on a couple of occasions.
HRFQ : I think people are starting to prefer the smaller venues again in Japan, is it the same in the UK?
Will : Absolutely. Definitely in the UK I think more than anywhere a lot of the bigger clubs like Cream and the Ministry of Sound have suffered because they're less personal and there's less of an atmosphere in the bigger venues. Dance music became strong because it was an underground movement where you could escape your day-to-day life but as soon as it became part of everyday life people became used to it and therefore bored of it. I think Fabric has been able to maintain it because it has such a purist approach to the music and it's always putting on new artists and the most cutting edge music. The venue and the sound system are still very underground in its feel and most importantly they haven't sold out. They're not doing a tour around the world or they're not doing an Ibiza night, it's just the venue, the sound system and the people that are playing there and that's because of the ethos of the people than run it really so hopefully it will remain like that.

HRFQ : It's funny that at the same time superclubs like Cream and Ministry of Sound were losing popularity in the UK, Ageha opened in Japan
Will : Yeah it's the same with progressive house, Sasha and Digweed don't play in the UK very much at all now but spend most of their year touring around the world. I think trends go like that, spread around the world from London, when something dies in the UK its still going in Europe and in Australia.
HRFQ : I heard you used to work for Sony music, what did you do there?
Will : Yeah I did, I was the international product manager for their dance music, doing a bit of A+R but mainly coordinating the marketing of their dance releases all over the world. When I was doing my degree at university I worked with them for 2 years as work experience and then when I finished they gave me a job, so I'd had experience before that. But it kind of killed my conception of the music industry because the music was being marketed as a product, it could have been anything, a piece of soap or a piece of sugar, it was being marketed in a way to sell the product. They're not doing it because they love the music, perhaps when they started the company they were. I did it for a couple of years and then left and created Simple Records, just a reaction to doing something so corporate and soulless really.
HRFQ : But did your time at Sony help you starting Simple?
Will : It did help me, yes. One of the people I started Simple records with is a lawyer at Sony, another is a marketing director and another is a designer from Sony so I wouldn't go back and I change things, I learnt so much there, it's just something I couldn't have done for a long period of time but it was a very valuable experience.
HRFQ : Can you tell me about the Simple Records strategy?
Will : Yeah, I mean most people would classify me as a breakbeat DJ but the label itself isn't just breakbeat. It has the breakbeat core but there's broken beats and downtempo. There's also a guy on the label called Sideshow who records as Fink on Ninja Tune and he does deep ambient stuff as well and then there's Precision Cuts who are a live breakbeat act who are very much pure breakbeat and then there's me and I try and touch on bits and pieces of all of that. We just wanted to create a label that was based around those four artists and get remixes to touch into different areas of music. Basically create an underground music label rather than a breakbeat label.

We've got a sampler CD out later this year then a new album from me and Sideshow next year so hopefully next year will be the year it goes even bigger but I think you really need 2 or 3 years to establish yourself and become something that people really rely on as being consistent. The next release is on the 26th of July from Slideshow and that's called the Slide EP and that has a remix from producer called Matthew Johnson who's getting really popular in the US, he's releasing on Richie Hawtins label, Minus. He's licensed tracks to Kompakt, to Carl Craig and he makes this lush minimal techno. And then after that there'll be a release from me, the Digital Watch EP, which will hopefully have a remix from a German Label called Get Physical by an artists there called M.A.N.D.Y and it's kind of electro housey.

HRFQ : So let's talk about your future releasesc
Will : I've got the EP coming out in September, I've got a track coming out in July on 10 Kilo which was the label Mike brought out to the last Addiction party, with a Nathan Cole remix, and that's coming out in July. And then I've got another release coming out on Fabric resident Ali B's label, Air that features a vocal from a guy called Steve Edwards who's done stuff with Daft Punk and Cassius, people like that and I think that should come out in November, so yeah, lot's of bits and pieces.
HRFQ : So as an artist are you going to concentrate more on DJ'ing or making tracks?
Will : Yeah I'd like to be in a position where I can spend more time making music in the studio and just have a few really good gigs but I guess that's the dream of everyone who starts out as a DJ. The traveling doesn't really become pleasurable you don't get time to really see a place or spend any time there, taste the culture. You just spend your time on the plane and in hotels and in the club which is OK if the gig is good but I'd rather have 4 or 5 days in a place 2 or 3 times a month and get really well paid for those gigs. But to do that you really have to produce a couple of seminal albums which is a few year off for me but yeah, that'd be the ideal situation.
HRFQ : Can you tell us your recent favourite tunes?
Will : The labels that I think are really interesting at the moment are a German label called 'Get Physical'. They've only released 10 or 11 records but they're all really good, deep warm melodic electro house. A Canadian label with that guy, Matthew Johnson called 'It is What It Is', again just lush warm techno. As for breaks labels I think Marine Parade (Adam Freeland's label) is still one of my favourites and again there's a lot of good German labels at the moment, like Kompakt, they're really doing well at the moment.
HRFQ : Who do you think is providing the biggest momentum to the breaks scene?
Will : I think at the moment FingerLickin' are huge around the rest of the world because they have a really party breaks sound, which I don't play a lot of personally because I don't think it's very challenging musically but it's great for dancing to and they stick exactly to what they say they're going to do and I've got a lot of respect for that but for me personally it's not the kind of stuff I play in my sets. It's mainly Marine Parade who is really pushing the sound, Adam sold 20-30,000 units of his new album which, for a breakbeat album, was pretty good going and the Evil 9 album I've heard and that's fantastic. I'm actually doing a couple of tracks with those guys in a few weeks but more housey stuff. I'm going to try and make some electro house and see how that turns out
HRFQ : Do you have a message for Japanese fans?
Will : Thanks a lot for coming to see me and I hope they enjoyed it, it was a really good nightc. And keep a look out for Simple Records!!!
End of the interview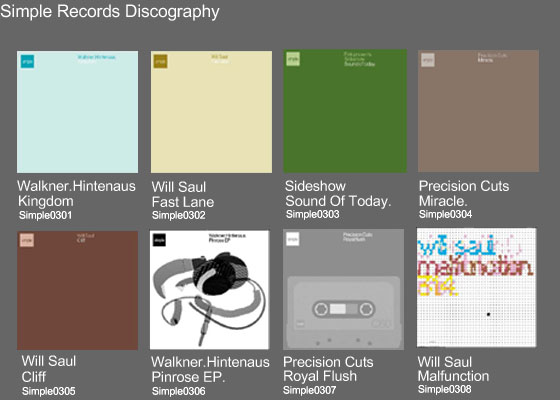 Addiction feat.Will Saul @ Simoon, Tokyo Party Report (19th June, 2004)