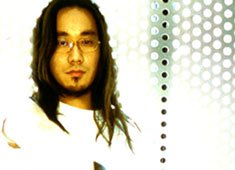 Yoshihiro Sawasaki
Related Project : Techno The Gong, Dr.YS, Meditation YS
Style : House
Label : V2, Sublime
URL : www.sawasaki.jp

He first started off in 1993 under the name Techno The Gong. He then went on to be signed to R&S sub label, Apollo under the name Y.S. after fellow DJ Ken Ishii suggested he send in a demo tape. In his early days, his sound was strongly influenced by German Progressive and very spacey and ambient which sent shock waves through the Japanese and European techno scene.
In 2000m he released his first album "Dr Y.S. & The Cosmic Drunkards" featuring a colorful guest line up such as Masumi Okada, Keiichi Sogabe and Guitar Wolf's Seiji. The album was a carefully constructed 'almanac' of experimental sounds tested over long period of time.
Not slowing down, in 2003, Y.S. began a regular monthly party at Shibuya La Fabrique and also established a new unit "ColorCrayon" after pairing up with veteran Jazz pianist Masayuki Nakatomi. Balancing a busy DJ schedule and preparing for several releases this year, Y.S. is definitely someone to keep an eye out for in the Japanese club scene.