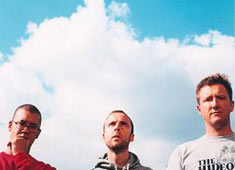 X-Press 2
Real Name : Ashley Beedle, Darren Rock, Darren House
Related Project : Ballestic Boys, Black Jazz Chronicles, Black Science Orchestra, Problem Kids
Style : House , Progressive
Label : Skint, Junior Boys Own
URL : www.x-press2.com

X-Press 2 are the collective of house producers (Rocky, Diesel and Ashley Beedle). Beedle first met Rocky and Diesel when he was DJing for Phil Perry at the hedonistic Full Circles sessions. The three producers discovered a shared love of disco and the wild grooves of DJ Pierre, and began making music together. Devastating dancefloor destruction is guaranteed from them everytime, from the frantic grooves of 'Muzik Xpress' to the crazed hip house of 'Hip Housin' featuring rapper Lo-Pro. When they get together Rocky, Diesel and Ashley seem to know what will rock and what will not.
Their first release, 'Muzik Xpress' was followed by 'London Xpress' and then 'Say What', all of which became big club hits, but the trio decided to call it a day for a while going separate ways. Beedle continued his Black Science Orchestra project and various other solo ventures, while Diesel did more solo production work, as did Rocky.
However, they continued to record together from time to time, and in 2000, the threesome got together to produce the anthemic 'AC/DC' for Skint turning a lot of heads both on the underground and in the mainstream. 2002 was to be their year with the release of 'Lazy' from their latest album 'Muzikium', and the record, featuring the vocals of former Talking Heads frontman David Byrne, got to no 2 in the charts.
X-Press 2 Interview in Tokyo (15th May, 2004)
"Skint Night Vol.2 feat. X-Press 2 @ Air, Tokyo" Party Report (15th May, 2004)