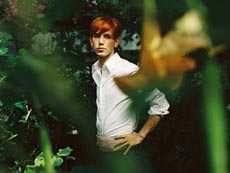 Tiga
Style : Electro, Synth-pop
Related Project : TGV
Label : Turbo, Faberge Records, White Leather
Official Web : www.tiga.ca

Text by Nick Lawrence (HigherFrequency)

Despite being a major player in the Montreal dance music scene during much of the nineties, the majority of us didn't get here about Tiga until 2001 when he released his electro cover of fellow Canadian Corey Hart's 80's classic 'Sunglasses At Night'. Not only was this track to launch Tiga's international career but it would also go on to define not only his sound but even his on stage persona.

Fast forward to 2003 and Tiga was back with another lighthearted cover, this time of hip pop star Nelly, in the form of "Hot In Herre" which was released on Fatboy Slim loving label, Skint Records and brought a bit of sense and humour to the often very serious club world.

It wasn't until five years after the release of 'Sunglasses At Night' that Tiga was allowed to put all of his electro inspired piss-take heavy songs onto one album. The result was "Sexor" and it came complete with guest vocals from Jake Shears from the Scissor Sisters on 'You Gonna Want Me', as well as Batman references in another track 'Who's That?' and also included two dancefloor oriented tracks, 'Louder Than A Bomb' and 'Pleasure From The Bass', which had already done the club circuit after their single releases two years prior.

Because of his many successes with his original productions, Tiga is widely sought after in the world of remixes. He has been responsible for reworking FC Kahuna during their early 00's glory days, Diesel-U-Music's most loved son Mylo and even everybody's favourite Depeche Mode.

However, for many of his tracks that have ignited dancefloors and set pulses racing, young Tiga cannot take sole credit. In fact nearly every release has actually been a co-production with another artist, Tiga normally combining wits with some of Scandinavia's finest. Jori Hulkkonen, Soulwax and Jesper Dahlback are some of Tiga's favourite collaborators, the latter of which you may know from his work with namesake John Dahlback under the group aliases Hugg & Pepp and Dahlback & Dahlback.

Since 1998 Tiga has run his own label, Turbo, which thanks to the success of his productions has gained great momentum and even spawned two sub-labels called Faberge Records and White Leather. As well as acting as a playground for Tiga's work these labels also offer an outlet for likeminded artists such as Martini Bros, Mateo Murphy and Panash.