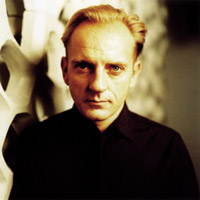 Sven Vath
Related Project: R U Ready, Sam Vision, Barbarella
Style: Acid, Trance, Techno, Electro
Label: Eye Q, Cocoon Recordings, Virgin Records
Official Web :www.sven-vaeth.de

It's 1981 and a 17 year old boy plays Hot Chocolate and Diana Ross records at a British Pub in Frankfurt, incidentally owned by his parents. Surely there isn't much good that could come of this. Wrong, and Sven Vath is just the man to prove it. Coming from such humble beginnings it boggles the mind to ponder just how Sven managed to become considered as the godfather of German techno. But a brief look over his past achievements and things become a little bit clearer.
Making a name for himself behind the decks at the Dorian Gray club in the 80's as well as introducing the acid genre to Germany, Sven soon opened a club of his own which is of course none other than the legendary Omen. Opening perhaps the most famous club in Germany's dance music history was not enough for Vath so the next logical step was to start his own record label, Eye Q. Eventually Sven's musical direction diverted from the path being followed by Eye Q so it was time to search out new horizons.
This was the birth of the now phenomenally influential Cocoon brand name which is now not only responsible for a record label and club nights at Amnesia in Ibiza and Sven's home town of Frankfurt, but also for the booking of artists including James Holden, Timo Maas, Ricardo Villalobos, Josh Wink and Pascal Feos.
If you have only just heard of Sven Vath and want to delve into the back catalogue of his music you have a never ending task ahead of you. With a career spanning 25 years (and more to come) there are too many records to mention. However, don't lose faith just yet because it was only in 2000 that Sven commissioned his first official mix CD "Sven Vath In The Mix: The Sound of the First Season". The series is currently up to the sixth season and with a touring schedule that takes him to every country imaginable it shouldn't be too long before you can catch one of Sven's patented long sets.