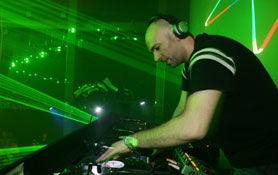 Pascal F.E.O.S.
Style : Techno
Related Project : Resistance D, Sonic Infusion
Label : Planet Vision, PV, Electrolux, HeyBabe
Official Web : www.pascalfeos.de/

Text by Nick Lawrence (HigherFrequency) _ Photo by STRO! ROBO

It may be hard to believe but Pascal F.E.O.S. started his DJ career way back in 1984 when crowds were naive and disco and house music ruled the clubs. In the twenty something years since Pascal F.E.O.S., whose real name is Pascal Dardoufas, jumped into the deep end of the music industry to play at all the biggest clubs, including the legendary Omen in Frankfurt, he has evolved through many different genres and styles in both his DJing and production duties. Whether promoting the sound of house, EBM, trance or his now trademark techno, F.E.O.S. has managed to push his way to the forefront and get his sound out there whether it is using decks or an effects board.

The mid nineties were a fertile time for Pascal F.E.O.S. especially in his remixer guise. During this time he released his spin on tracks like Sven Vath's ''garlequin - Beauty and the Beast' and 'Echoplexing' which were pressed by Sven's Eye Q and Harthouse labels respectively, a partnership which is still evident recently with F.E.O.S. being in charge of the Mix CD "Rize & Fall" for Cocoon Recordings. The scene's desire to utilize Pascal's remix skills didn't stop with the millennium though. This century Pascal has been called upon by Azzido Da Bass to give their modern day classic 'Dooms Night' a reworking as well as putting his own unique spin on the Horrorist's iconic 'One Night In NYC'.

While many of Pascal F.E.O.S.'s original productions have been centered around the techno sound, like his debut artist album "From The Essence of Minimalistic Sound", Pascal has also taken forays into the world of trance. Along with Maik Diehl, under the name of Resistance D, Pascal was able to contribute greatly to the development of early 90's trance partially thanks to a strong relationship with Frankfurt based Harthouse, releasing influential tracks like 'Human'. Pascal's part in the burgeoning German trance scene was summed up nicely with his 1996 3CD offering, "Pascal F.E.O.S. Presents The Frankfurt Hardtrance History"

While DJing and producing have been Pascal's main focus for the past two decades he has, like many of his peers, turned to the label management game for added excitement. In 1995 Pascal F.E.O.S. joined with Alex Azary to establish Electrolux, HeyBabe and Planet Vision, three record labels that signified Pascal's new found love of techno. The following year saw the first Pascal F.E.O.S. track appear on the Planet Vision imprint, 'Time To Remember' and also the decision by F.E.O.S. to initiate a sub-label called PV which was to act as an outlet for progressive rhythmic techno and now totals around 100 releases, many coming from Pascal F.E.O.S. himself.

Throughout his career Pascal has of course released many of his own productions, DJ'd at thousands of parties and remixed more than 100 tracks but has also managed to help other artists further their own careers using his labels to support numerous artists including Ricardo Villalobos and Thomas Schumacher.
Party Report : IBIZA-SUNSHINE MasterCard METTRIPPIN PRICELESS PREMIER PARTY 2005 @ WOMB (24/06/2005)