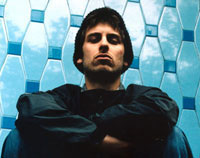 Nostalgia 77
Real Name: Ben Lamdin
Style : Electronic, HipHop, Jazz, Funk
Official Web : www.Nostalgia 77.com

Nostalgia 77 aka Ben Lamdin first burst onto the scene with his heavy, new funk based sound in 2002. Unleashing a string of club friendly tracks on Tru Thoughts' hugely influential 7Sevens imprint, he then followed suit with his seminal debut LP entitled 'Songs For My Funeral' n February 2004. Swiftly moving away from the distinctive raw funk of his previous singles, 'Songs For My Funeral' saw him branching out to explore a more downtempo and jazz infused style. The album's sound is hip-hop based beats fused with dusty old jazz; obscuro funk and psych bits and pieces, repolishing and rearranging them for modern day headphone junkies.

he success of the debut album thus encouraged him to progress with this approach for his second album offering, 'The Garden' A style which he describes as "a combination of soul and jazz composition with computer based production techniques" Coming from producing hip hop style beats he had always heard snippets of jazz tracks he loved, so the fuller musical expression of actually making his own jazz music was inevitable. If you imagine Breakestra hanging with Cinematic Orchestra, or RJD2 teaming up with the Ethiopiques then you're close to the sound of Nostalgia 77's latest album offering.

Aiming for an edgy sound whilst continuing to search for a more personal expression, Nostalgia 77's influences include free and spiritual jazz as well as 60's funk and soul and Afro sounds.

Nostalgia 77 can be booked as a DJ or as the full eight piece live band performing tracks from his LP "The Garden" (released 21/03/2005).