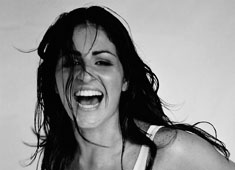 Misstress Barbara
Related Projects : Barbara Brown, My Prada Heels
Style : Techno
Label : Iturnem (Relentless Music)
Official Web : www.iturnem.com

Originally born in Sicily, Italy, by the time she was eight Barbara called Montreal, Quebec home and where she has been ever since. Picking up some drumsticks and sitting behind a kit at 12 was her real first-hand exposure to the power music would have over her life. As she grew up in the fabulous eighties, Barbara quickly felt a connection with the hard banging styles of Classic Rock and Punk, which was the foundation of her Techno style, that has been her trademark since 1994.

By 1995, Barbara had traded in her drum kit, picked up some turntables and a mixer to hone her edgy style. In 1996 she got her first paid gig and hasn t looked back. Taking a few years to build a following throughout Canada, she quickly built quite a reputation of being a kick-ass DJ. After proving her talents across the Mid-West, Barbara took a gig in the UK, which brought her to the immediate attention of industry veteran and luminary Carl Cox. With such a brief time behind the decks Barbara s talents rapidly expanded and she was in demand all over the world, in such eclectic outlets as Asia, Europe and South America.

After graduating from the University of Quebec, Montreal with a BA in Communications, Barbara was ready to dedicate herself full-time to her burgeoning career and where her real education began. Sure she had bought some studio equipment while in college, but it wasn t until her post-collegiate days that her studio work became not only a passion, but a driving force in her life. Heavily influenced by the shuffling of Jazz and the repetitive grooves of Latin music, combined with her love of hard hitting Rock and the edge of Punk, has created a near-genius signature that can be heard not only through her original materials, but in her full tilt sets around the world.

In 1999, Barbara established Relentless Records and released her first two ep s "Endless Passion" and "Cry & Dry". In 2000, Barbara was back in the studio to produce her third single "For All There Is Left" and is working on her first mixed compilation, and Moonshine Music debut, "Relentless Beats", expected in February, 2001.

Barbara aims high with the intentions of running her label, producing tracks for film and video games, touring and producing killer tracks, her future success appears to be all within reach.