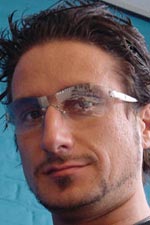 Marco Bailey
Style : Techno
Official Web : marcobailey.net , marcobailey.com

"No nonsense, just great music. Techno is pure energy. Giving yourself one hundred percent to make people feel good. Keep an open mind and you'll get the proper respect."

With the release of his album " Rude Boy" on May 17th (2004) and the following live& dj tour, Marco Bailey once again jumps ahead of the competition. Fifteen years of sacrifice and dedication have seen Belgian'snumber one dj break through the national borders to join the big league of worldwide techno artists. This didn't go unnoticed by leading man Carl Cox who asked him to sign onto his new label Intec Rec. Killer tracks on Primate, Zync and Tortured, confirmed his strong reputation as a producer over the last eight years. In return he set up MB Elektronics & MB Selektions to release quality music by the likes of Adam Beyer, David Carreta, Claude Young, Umek, Mark Broom and Ben Sims. In 2000, he joined forces with Spanish pride Cristian Varela to form Pornographic Recordings, a respected outlet for musicians as diverse as Tim Baker, Oxia, Tom Hades and Redhead.

Marco Bailey's own productions frequently appear in the setlists of Carl Cox, Chris Liebing, Jeff Mills and Sven VŠth,. But don't let the list of big names mislead you: although ambitious, he is a selfmade man with a mission to entertain people with the love of pure techno music.And that's exactly what he has been doing all these years: travelling from west to east back again, igniting dancefloors from Rio to Tokyo with his unique blend of underground sounds and funky techno.
WIRE 04 Party Report Day 01 @ Yokohama Arena
Marco Bailey / Rude Boy Release (June 2004)