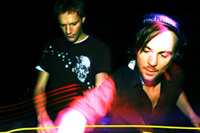 M.A.N.D.Y.
Style : Electro, House
Related Project : Arcus, Degeneration
Label : Get Physical Music
Official Web : www.physical-music.com

Text by Nick Lawrence (HigherFrequency)

Phillip Jung and Patrick Bodmer met many moons ago, but it wasn't until they met soon to be fellow artist Booka Shade at University that they realised making music was much better than burying their heads in some dusty old books. After a string of hard trance releases during the nineties under the aliases Degeneration and Arcus, the boys veered off their raver course and stormed straight into the German pop charts with their radio edit remix for electronic rock band Galleon.

Despite MTV play time and the promise of fame and fortune, largely thanks to being mistaken for a supermodel, M.A.N.D.Y. decided to move out of the cheesy house clubs and attempted to tunnel their way back underground, a task which would paradoxically involve remixing pop starlets the Sugababes and New Zealand born crooner Daniel Bedingfield.

The duo started receiving a lot of attention around 2002 when they teamed up with the Sunsetpeople aka Patrick Dechent to produce a rump-shaking little number called 'Sunsetpeople' which appealed to fans of varying genres. However, the real kudos started pouring in when they went once again into the studio with their production tutor Booka Shade to churn out 'Body Language', a tune that no one could possibly withstand the desire to dance to.

The same year as this infectious single was released the duo got behind the decks to record one of the most memorable mix CDs of the first half of the decade. The similarly named "Body Language vol. 1" featured their usual crew like Booka Shade and Sunsetpeople but also included works from minimal wunderkinds Marc Houle and Luciano as well as electro loving duo Tiefschwarz.

The droll duo are now a major part of Get Physical Music which is less a label and more a commune of artist friends who hang out, party and occasionally push record on the mixing desk, all of course with amazing results. This crew of friends, including DJ T, managed to attract worldwide attention for their self proclaimed "body workout" style of music, even receiving the accolade of best label for 2005 from British publication, DJ Mag.
Interview : M.A.N.D.Y. Interview in Toyko (28/04/2006)
Party Report : Mule Musiq presents Endless Flight feat. M.A.N.D.Y. @ UNIT, TOKYO (28/04/2006)