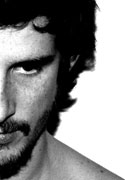 Luciano
Style : Minimal, Techno, Latin
Related Project : Lucien-n-Luciano, Sense Club
Label : Perlon, Cadenza
Official Web : http://lucien-n-luciano.com

Text by Nick Lawrence (HigherFrequency)

Lucien Nicolet, aka Luciano, has been actively involved in the dance music industry since the ripe old age of sixteen when he deserted the constrictive world of punk rock for greener pastures. However, before reaching Nirvana Luciano had to plough through the barren wastelands of anonymity as he struggled to make a name for himself in Chile during the 90's. Together with friend Adrian Schopf as well as Adrian's older brother Martin, better known as Dandy Jack, and Ricardo Villalobos whenever the two would visit Santiago on their holidays from Deutschland.

Luciano began working as a DJ in 1993 and labored away in his native Chile trying to forge out a career and spread dance music across the country. However, despite minor successes like transforming rock n' roll venues into thriving techno clubs it wasn't until he returned to Switzerland in 2000, originally moving there many years earlier as a child, that he truly started making a name for himself. Thanks to an expert ear for the coolest sounds and a unified European scene Luciano was able to wangle a residency at Geneva's chic Weetamix as well as others at Panoramabar in Berlin and Ongaku Musik Boss Ata's Robert Johnson in Offenbach.

But it isn't just behind the decks that Luciano weaves his Latin magic. Shortly after his arrival in his adopted home Luciano the producer found a musical home in the form of Mental Groove Records and it wasn't long until other record labels such as Perlon and Bruchstuecke were welcoming him too. His productions are now highly sought after, especially one special collaboration with Mathew Jonson, 'Alpine Rocket' which was released on Perlon in 2003. Luciano isn't afraid of a good production partnership, also teaming up with Ricardo Villalobos to form Sense Club.

While, Luciano's singles are strictly for the dancefloor his debut album "Blind Behaviour" was a much more downbeat affair aimed at home listening. Because of this shift in sound this popular Chilean emigrant opted for a different moniker which was of course Lucien-n-Luciano. This wasn't the first time this alias had been used however, two years earlier Lucien-n-Luciano's first release appeared on Playhouse's sister label, Klang Elektronik.

Nowadays Luciano is busy touring the world playing at the Miami WMC and in 2006 even taking up residency at Ibiza's DC10. On top of DJing the man is also busy running a Berlin café called Post26 which he opened in conjunction with small independent label Lan Muzic as well as managing his label Cadenza which he started together with Zurich boy Serafin.