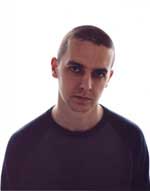 Ewan Pearson
Related Project: Maas, World of Apples, Partial Arts, Dirtbox, Sulky Pulp, Villa America
Style : Techno, House
Label: Soma
Official Web :www.ewanpearson.com

Not many DJs or producers can claim to have written a book or to have lectured at university, however Ewan Pearson is one artist who can. His book "Discographies: dance music, culture and the politics of sound" (co-written with Jeremy Gilbert) was released in 1999 and he spent a semester lecturing at the University of East London.
When not writing prose the man from the Midlands can be found in the studio or behind the decks in any of the world's greatest clubs such as Fabric, Robert Johnson and Manumission. Under many monikers Ewan has released one artist album, "Latitude" and a few EPs on Soma Records as well as being responsible for many popular remixes.
His 2002 remix of Freeform Five's 'Perspex Sex' was an instant dancefloor favourite as was the soon to follow remix of Selenluft's 'Manila' released in the same year. The remix credentials don't end there of course with Pearson delighting us with his interpretations of the likes of Blackstrobe, Goldfrapp, Playgroup and Slam.
With the support of his peers, countless of Ewan's works have found their way onto compilations by DJs such as Sasha and Damian Lazarus, and a production career to boot, he is responsible for producing some Ladytron material, the future looks bright for Ewan Pearson.