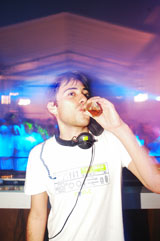 Desyn Masiello
Style : Prog/House
Label: Sex on Wax, Alternative Route, Bedrock
Official Web : http://www.desynmasiello.com

Desyn is one of the very few djs in recent years that has stood out and caught the ear of some of the worlds largest DJs (Deep Dish, Sander K and Danny Howells nominating him as their 'future DJ hero' in DJ Magazine's Top 100 poll 2002). With many established DJs and nucomer DJs leaning towards a particular style and musical range many are pigeon holed into a 'genre' of music. Desyn, however, has managed to establish his own sound that crosses boundaries and makes difficult to categorize.

Desyn incorporates house classics, deep, tech, funky and progressive in his sets. His musical taste takes inspiration from everything and anything that he feels, acid house, funk, soul, disco, rock, Indie, Brazilian, carnival, reggae, dub...."I listen and take inspiration from almost any type of music. Many tracks I find may not be instantly playable to the new generation of dance music fans, so I use technology such as pro tools and ableton live to re-edit tracks or update the beats so they will then fit into my vision of how the music should sound on the dance floor"

Desyn's love of house music began in 1989. Born and raised in London he was exposed to the acid house movement at 16 and a devoted regular at the legendary spiral tribe and traveller raves around the UK at that time. Having bought his first set of turntables in 1990 and working for 6 years as a "computer techie" his passion and real love in life was music. His DJ career all began with 1 mix CD that he took a considerable amount of time and love preparing, he sent it out to 100 random people that requested the CD from a post that Desyn put out onto various internet message boards. After a few months the CD had been passed all around the world and ended up on the laps of various promoters and DJs. The CD made such an impression that Desyn, although completely unknown at the time began to get international gig requests. From his first international gigs in Helsinki and Tampara, Finland 2000, to his chaotic schedule today; it all sparked off from that one mix CD.

In late 2000 Desyn met with Abi Farisi his worldwide manager and booking agent. A great friendship and mutual love of house music saw the two start a DJ agency called Symphonic in 2001, from which Abi started work on pushing Desyn's career along with some other well known DJs that joined the roster. 2002 saw Desyn's career skyrocket; with Deep Dish's exclusive US booking agency, Bullitt, signing him up to their US roster. 2002 kept Desyn packed with tours and performances. Kicking off the year with a cover mount CD for DJ Magazine (WMC issue), headlining at Glastonbury, and performing notable 6-hour sets around the globe and guesting in venues such as Cream (Liverpool), Gatecrasher and Renaissance (Worldwide).

During a hectic 2003, Desyn embarked on a global tour supporting his Yoshitoshi 3 "In House We Trust" CD. Performing 80 dates in 100 days, in some of the world's largest venues, for some of the most renowned companies, sponsors and festivals around the UK, Western Europe, Eastern Europe, Malaysia, Asia, Middle East, North and South America. Other highlights throughout 2003 included Sander Kleinenberg selecting Desyn to DJ alongside him at his EVERYBODY night, Ibiza, as well as to join along side him at his party with Sasha, in The Hague.

2003...having already released the highly acclaimed mix CD "In House We Trust 3" Yoshitoshi), and DJ magazines 'WMC' 02 cover mount, Desyn was steering his exciting new label Alternative Route (house and progressive) into the forefront of the scene. With his first signing (2001) being the mighty KC FLIGHTT 'VOICES' and and one of the most recent and successful releases being the colossal Chable & Bonnici 'Ride' Other releases have included tracks from friends and producers, 16b, PMT, Creamer & K and DJ Vibe. The success of these tracks On Alternative Route are testament to Desyn's A&R ability to unearth superb originals, both new and old. 2003 saw the launch of Desyn's second label 'SEX ON WAX' co-owned with 16b. The label has already gained international reputation for superb releases from dance legends MR C and Danny Howells.

2004...Desyn's productions are pointing the way to an exhilarating future. With his first two singles with co-idiots Omid 16b and Leon Roberts, The Idiots "feel The Rush' and "Keep It Real" (Sex on Wax) both featuring on Danny Howells' 24/7 compilation; his first remix (Solar Plexus) is exhibited on Deep Dish's Global Undergorund (025) Desyn has completed remixes and edits for Yoshitoshi - Brother Brown's "King's of Tomorrow". Eddie Amador's "Psycho Ex-girlfriend" and the merging of "Loudeast and Luzon". The Idiots produced "Dogman" remixed Danny Howell's "Spikes" (Sex on Wax) ; and two Idiots remixes of "Sharpside", Belgian Resistance (Renaissance) were released in June.

Having joined forces with The Collective Agency (NYC ) a Radio 1 "Hot Mix" and a Kiss FM show under his belt, Desyn, is set for Radio 1 Essential Mix (Oct 3rd 2004). John Digweed requested Desyn join him on his "End Of Summer Tour" around the USA (August) This, together with the Original Series (OS 1)Bedrock mix CD and extensive touring across the Middle East, Asia, UK, Europe, North & South America, 2005 sees Desyn's profile continue to grow and further establish his name as one of the top ranking international DJs.
Desyn Masiello Higher-Frequency, Video Interview
BEDROCK ANNIVERSARY @ FABRIC, LONDON
DIMENSION K presents 2300 A.D. @ ageHa@studio coast feat Derrick May, Desyn Masiello
WOMB presents DESYN MASIELLO @ WOMB, TOKYO