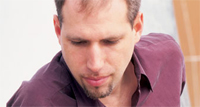 Daniel Bell
Style : Minimal Techno
Related Project : DBX, Cybersonik, Spawn
Label : Accelerate, 7th City, Elevate
Official Web : www.daniel-bell.com

While he is one of the pioneers of the minimal techno scene and highly regarded in the world of Detroit techno, Daniel Bell actually grew up in Sacramento pretty much a whole continent removed from the Motor City. During the late eighties he moved to Toronto to attend film school and was fortunate enough to meet up with a young Richie Hawtin and John Acquaviva. The techno loving trio forged together their studio magic in 1990 to release 'Technarchy' under the group name Cybersonik, a project that would help launch Hawtin's then fledgling Plus 8 Records.

For just a couple of years Daniel Bell continued to produce for Plus 8 including a collaborative release again with Richie but this time in conjunction with Psychic TV member Fred Giannelli, under the project name Spawn, for sublabel Probe Records. With a return to the US, this time to Bell's famous adopted home of Detroit, came the decision to branch out with his own record labels. Thus Accelerate and 7th City were born, two labels that would not only release Bell's own music, including his seminal 'Losing Control' under his DBX alias, but also the music of many others like John Tejada, Claude Young Jr. and old pal Richie Hawtin using his lesser known Spark moniker.

Thanks to the success of these two labels Bell soon expanded operations launching two more record labels, Elevate and Harmonie Park, with help from Michigan born deep house artist Rick Wade and setting up Seventh City a major international distributor for many of Detroit techno's important labels. While the success of Seventh City increased, Bell's studio time sadly decreased and although very unfortunate for the man himself, fans everywhere rejoiced when this project went under and Bell once again returned to producing with the 1997 releases of "Elevate Special Projects 1" on his own Elevate imprint and "The Lost Traxx EP" on Playhouse sister label Klang Elektronik.

The music of Daniel Bell has done much to influence the current stream of minimal music with his DBX tracks like 'Blip' and 'Bleep' even helping mold the current language used by the now flourishing genre. This was recognized by French label Logistic records who released a compilation entitled "Blip, Blurp, Bleep: The Music Of Daniel Bell" in 2003 which nicely summarized this influential characters contribution to the world of minimal. Nowadays Daniel seems to focus largely on touring and remixing supplying re-interpretations for artists like Perlon's Pantytec, Poker Flat boy Martin Landsky and fellow minimal pioneer Akufen.