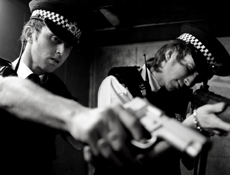 Coburn
Related Project: Coburn vs. Cobain, Slide, Electric Tease
Style : Electro
Label: Frontier Recordings


What happens when the powers of psy-trance and progressive house combine? If Coburn is anything to go by then you are left with a twisted form electro pop, rock and punk. The duo, made famous by their track's appearance on a Citroen television commercial, are actually Tim Healey and Pete Martin better known as Electric Tease and Slide respectively.
Separately, Tim is responsible for wowing thousand strong psy-trance crowds worldwide while Pete is most famous for his work in the progressive world with friend Cass. But when working together this couple of English lads has managed to break on through to the mainstream. Not only have they had fame in the world of advertising but they have also DJed at a private party held by Miss Paris Hilton and have remixed Pharell and Gwen Stefani's 'Can I Have It Like That?'.
As well as being supported by Citroen, Coburn's to date most popular track 'We Interrupt This Programme' appears on the mix CDs of Desyn Masiello, Darren Emerson, and Ferry Corsten. So, with an EP on the horizon we should soon be finding out just how far these two seemingly mismatched producers can go.