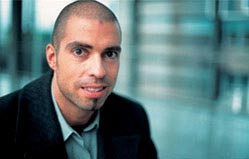 CHRIS LIEBING
Style : Techno
Country : Germany
Related Labels : C.L.R., Fine Audio Recordings, Primate Recordings
Official Site : www.cl-rec.com

Chris Liebing had his first Residency as a DJ in a small club called "Red Brick" 1991 in Giessen, near Frankfurt. There he was playing all sorts of music from Soul, Hip Hop and Pop to House. In 1993, buying his records at Downtown Records in Giessen, he discovered the more electronic side of music, and one year later, he decided to open up a Techno Club, called "Spinclub".

Already beginning of 1995 the club had to close down and Chris began working for Eye-Q Records in Frankfurt. During that period, he met his friend and partner Andre Walter. Together they started to built up a studio and worked on music. Later that year, the first record on Global Ambition was released. Also together with Tommy Bingel from Downtown Records and Toni Rios, they founded the house Label SOAP. Various Records and Remixes were released, like Traveller on Harthouse, Noosa Heads and E.H.R. on Soap, Strictly Ryth, and others.

In November 1995, Chris had a chance to play at the OMEN in Frankfurt and shortly after became Resident DJ. About a year later, influenced by his DJ-ing, he created "fine Audio Recordings" together with Under Cover Music Group. Chris gained first worldwide recognition with releases like Audio 07 and Audio 11.

Between 1997 and 1999 he hosted his weekly radioshow on Evosonic Radio. Very much happened then in 1999, Chris played the first time for the U60311 and started his Residency every first Friday of a month with "Es ist Freitagaaabend!", playing along with his favourite DJLs and Live Acts from around the world.

He joined the Cocoon Agency in Frankfurt to take care of his growing Booking Schedule and also in that same year, he moved on with his Labelwork and created his own Recordcompany "CLR". From then on the Labels CLR, Clretry, CLAU, Stigmata and Soap were distributed by Prime in England.

Since August 2000 you can hear Chris and Pauli Steinbach in their "Pitch Control" on HR XXL every Thursday night.

In may 2001 he mixed his first double CD Techno Divison Vol. 01 in cooperation with his residency Club U60311 an their Label. The CD runs well and were charted on #18 of the German dance Chart directly. Also Chris started working to produce for his first Album. But he still released production on his own labels in 2001/ 2002.

In 2002 he left Cocoon Booking to manage the Booking Schedule by himself. From now on CLR is takin care of his Labels and Bookings.

Chris Liebings Debutalbum EVOLUTION got released in June 2003 national and October 2003 worldwide. The reaction is immense and most magazines supports the album and producer behind. Next to releases in 2003 on his Labels CLR, CL Retry, CLAU and Stigmata ( more infoLs watch Chris LiebingL s Discography) Chris decided to built up his own Party row ES IST FREITAGAAABEND (means its friday night) in the U 60311 in Frankfurt.

In August Chris played Nature One Festival in Germany and got voted to best DJ of the Festival, second year in row.

After a successful year (2003) Chris decided to take off a complete month in January 2004; he wants have a few weeks off for vacation and studio. In that take off Chris have had the idea to arrange a remix contest about all tracks he released on his debut album Evolution. Chris put all parts of the tracks on his site for download; and within a few days CLR receives more then 2000 registrations of producers who wanted to do a remix. After three month CLR received more then 500 remixes; and on August 2004 Chris released the best four tracks on CLR evo.

In July 2003 Chris Liebing is nominated for the German dance Award in the category best national DJ, also nominated were Paul van Dyk, Sven Vath & Westbam. Chris flew in to be part of the Award Show wich happened in Berlin; really happy about the nomination; - nothing aspected ? and WON the Award for best national DJ!

A few weeks later Chris and Pauli receives the information that the radiochannel were their run their weekly radio show , that the radio channel switches name and products; their radio show PITCH CONTROL should move from a Thursday night slot to Saturday night. Pauli and Chris decided not to go on, because both are mostly booked DJ wise, and the Pitch control team decided that to record the show under the week and to broadcast it Saturday night instead of doing it live, would mean they ld loose loads of spontainous vibe. So in December 2004 the last Pitch Control went on air before they both closed the radio show after three years.. The reaction were massive, but there were no chance to hold the Thursday night.

In the beginning of 2004 Chris Liebing was voted "best Remixer" by Raveline MagazineLs yearly readers poll. In the categories best DJ and best Producer Chris runs number two.

In May 2004 Chris released his second double Mix CD for his residency Club U60311 on their Label Techno divisions; -the Mix CD by Chris was Vol. 4. In this Mix CD Chris goes on as he would do in a DJ Performance, with all technical Equipment and effects he uses usually; Final Scratch; Ableton Live, Faderfox, Air FXc. Also the cover of the CD shows his Laptop with Final Scratch running.

In March Chris received the request if he would be interest to host a weekly night from July to September together with Mauro Picotto on Ibiza; at the Privilege Club. Chris and Mauro decided to do so; even with loads of critics in back; they did, and the Meganite combinazione were born; the night turned out as a success and the first saison on Ibiza were made, both Hosts will go on with Meganite Combinazione at Privilege in 2005 every Wednesday.

In October 2004 Chris release the STIGMATA CHAPTER ONE Mix CD, for wich he used all 44 tracks he has released on his Label Stigmata for the first Chapter ( 01 ? 10) in cooperation with Ableton live. The Mix CD is sold as gThe complete Collection, -Chapter one. Chris Liebing and his Partner Andre Walter will start in second half of 2005 latest with the Stigmata Damon Chapter, Chapter two.

Together with the incredible dutch producer Speedy J Chris produces a release on Speedy JLs Label COLLABS on wich Speedy J releases always in cooperation with some other producer on the renommated Novamute label. Chris and Speedy J released Collabs 300 in November 2004. The result were good and Speedy J and Chris Liebing realised that the work together fruits. So they start the collabs 300 series; in January 2005 they will release their next 12h. Collabs 301. Also a complete Album is scheduled for November 2005 via Novemute.

In November 2004 the international recognized Readers Poll of the Top 100 DJs of the world from DJ Magazin happened. Chris Liebing climped on # 23! He climed 65 steps; wich hits him to the highest climber of the Top 100 Readers Poll History of DJ Magazines.

In January 2005 Chris received the message that he is again nominated for two German Dance Award; Best DJ and best Techno Artist. The Award show will happen on March 11th2005. Also in 2005 Chris Liebing will host a second month Residency at Avalon in New York City.His night ES IST FREITAGAAABEND at the U 60311 will happen in 2005 again for sure, in the 6th year!

January Chris signs endorsement deals with Final Scratch 2 and Shure. Chris will play at the german release party in berlin for Final Scratch and in Miami in march for the American release party of Final Scratch 2.

In Febuary 2005 Chris will relaunch his website; new updates artwork, new press shoots.