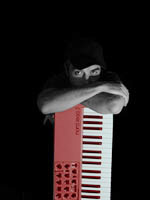 Chab
Real Name : Francois Chabloz
Alias : Jonathan & Bradley, Moogwai, Star
Style : Various
Label: SAW, Yoshitoshi
Web :www.sawrecordings.com/

Over the past 5 years, Swiss-born Francois Chaboliz (aka Chab) has risen through the ranks of dance music producers/mixers to emerge as one of the most exciting club artists worldwide.

His success started by producing several trance releases on the Platipus record label from which his music was played by influential DJs like Paul Oakenfold, Tiesto and Armin van Buuren, finding its way onto many trance compilation albums. He's gradually expanded his repertoire, successfully collaborating with DJ Nukem on several occasions, as well as toying with side projects like Star. Recently he started exploring deeper and darker music under the handle Chab and got signed to the respected Yoshitoshi label.

His work has appeared on 6 Global Underground collections, in collaborations with other artists such as DJ Nukem, remixes of Nelly Furtado and Cevin Fisher, and on his first album as an artist Dub, Edits and Whisky-Coke. The release of the album, on Satoshi Tomiie's SAW Recordings, eagerly awaited in progressive house circles and few listening will be disappointed. Rock elements, electroclash attitude, the sound of organic instruments and pure house beats all blend to create an exciting program of dance songs ready for the dancefloor, home soundsystem, or even hip retail outlet.