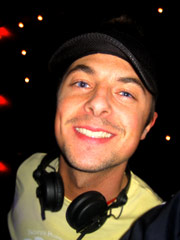 Axwell
Related Project : SoulSource, 'Remixed Fevers'. Victor
Style : House
Label : Soulfuric Recordings
Official Web :http://www.axwell.co.uk

The last couple of years have been fantastic for young Swedish producer Axwell. Leading the way has been Mambana, his collaboration with Isabel Fructuoso (of Afro Medusa fame). Signed to the highly respected Soulfuric Recordings, they have released 2 huge tracks since April 2002. "No Reason" was their massive debut single that hit the top spot in all the Hype/Buzz charts that Summer and featured in the sets of all the top DJ's including Louie Vega, Danny Rampling and Ben Watt. The follow up "Libre" was released last summer and was arguably bigger than its predecessor. "Libre" was licensed to more than 12 different territories and featured on compilations that sold in excess of half a million copies. Isabel was in Stockholm recently working on the new single "Felicidad" that should be out this summer.

Other big tracks that Axwell has been responsible for over the last 2 years include Jetlag "So Right", which came out in September 2002 also on Soulfuric. Featuring the vocals of Noel McKoy this track had a guitar hook to die for and was backed up with a peak time dub mix that saw Axwell and Brain Tappert at the controls together. At the tail end of 2002 Axwell went back to his roots and did a track under his own name - "Lead Guitar" was released by fellow Swede Stonebridge on his Stoney Boy imprint and was again well supported.

2003 saw Axwell record for London based label suSU (the UK home of Master's At Work) under the guise of Starbeach. The track was called "Get Naked" & featured the vocal talents of D'Empress (Mutiny). This was followed up last Summer by Axwell's update of Evelyn Thomas' classic "High Energy" which rocked dancefloors again some 20 years after it's original release. In the autumn of 2003 Axwell's "Wait A Minute", featuring the vocals of Nevada was released on Soulfuric related label Device. This peak time party anthem was a club smash that duly gained support from the likes of Pete Tong, Junior Jack % Kid Creme & David Guetta. In between all this Axwell has managed to lend his considerable talents to other Artists - recent mixes have included Usher "Burn" (BMG), Room 5 "Make Luv" (Positiva), Clipse ft Faith Evans "Ma, I Don't Love Her" (RCA) &. Stonebridge "Put 'Em High" (Hed Kandi). He's just finished a remix for N*E*R*D's single "Maybe" due on Virgin next month. At the end of last year Axwell set about dismantling his studio ready for a complete refurbishment. The job was finally completed in February since when Axwell has been working on some new productions - apart from the aforementioned new Mambana single he's finished a new solo track called "Feel The Vibe" that's out on promo through Sweden's Nero Recordings this month, and the reactions has been stunning so far...