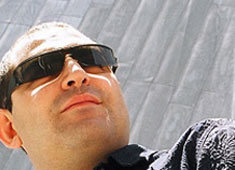 Anthony Pappa
Related Project : Freefall, Pappa & Gilbey
Style : Progressive, Breaks
Label : React, EQ
Official Web : www.anthonypappa.net

Pappa cut his DJing teeth in Melbourne at the tender age of 13 at a friend's birthday party then went on to win a DMC mixing competition at 15 which gave him the opportunity to play in clubs all over Australia. After meeting Sasha, John Digweed and Dave Seaman whilst playing on the same bills in Australia, Anthony came to the realization that the only way to further his career was to move half way around the world to Britain, a big step at only 21, but the gamble has paid off. Anthony had to accept the fact that after playing to crowds of over 8000 people in Australia, when he arrived in Britain he would have to wait and work his way up the ladder and this he has done.
Pappa established himself over here playing wide ranging sets of funky tech- house and non commercial trance which earned him the honor of mixing Renaissance Volume Two and the Best of Platipus albums in 1999. Alongside his DJing, Anthony has been producing in the studio under various guises, scoring a top twenty hit by layering the vocal from Power Circles, A Little Love A Little Life, over his remix of Offshore by Chicane and seeing chart action once again as one half of Freefall (with Alan Bremner of Brothers In Rhythm) with the track Skydive on Stress records, more recently picked up by Renaissance for a re-release.
Pappa had the opportunity to work with Barry Gilbey of Sheffield based Choo Choo Records after a chance meeting when Anthony's usual studio partner was unavailable to finish a remix of "I Trance You" by Gypsy. It was the beginning of Anthony's ongoing production unit "Papa & Gilbey", and since then their relationship has gone from strength to strength. With "I Trance You" included in Dave Seaman's Global Underground 012, and their remix of Morel's "Funny Car" on Yoshitoshi receiving glowing reviews, they have become one of the top production teams in the Progressive House scene.
In 2000, Pappa's career took another turn for the better when Global Underground crew recognized his talent and gave the opportunity to mix the debut release of their new compilation series, 'Nu-Breed'. Pappa's masterful mixing and his forward-thinking tracklisting contributed much to the successful launch of this new brand, at the same time helping to enhance his reputation globally. Since then, Pappa has continued to play at many of UK's top parties like Gatecrusher, Renaissance, Lush, Colors, and Cream, as well as big festivals like Giant, Axis and Spundae, while fulfilling a residency at Twilo in NY.
In 2002, he released another mix CD "Resolution" on the long-established UK label, React. In this compilation, Pappa demonstrated his mixing versatility, by starting off with groovy and uplifting tunes and then going deeper and more twisted on the second CD, finishing with James Holden's beautiful tune "Solstice".
Pappa will release his 8th production "Balance006" on 24th May, which will be 6th release under "Balance" brand produced by an Australian label EQ from Pappa's hometown, Melbourne. An up and coming compilation series from the Aussie label, they have already released albums by Phil K and James Holden.
Anthony Pappa Interview in Tokyo (17th April 2004)
"Anthony Pappa Asia Tour @ Air, Tokyo" Party Report (17th April 2004)